DQ's professional strength and depth of knowledge has been enhanced with two new appointments.
Ruth Costain has joined from Appleby as a Senior Associate within the dispute resolution department and Jack Igglesden has also arrived as a Trainee Advocate.
Ruth is a highly regarded figure in the Isle of Man High Court with a diverse range of experience across civil, commercial and public litigation.
As well as expertise of advising in bankruptcy and liquidation matters, she also has an extensive background in offshore life assurance, fraud and financial crime and has been successful in a number of high-profile human rights cases.
Ruth said: 'I am thrilled to have joined a firm with such a modern approach to the landscape of legal and advisory services. It is clear that DQ is going from strength to strength and I look forward to helping further grow our business while ensuring our existing clients continue to receive the high level of service they expect.'
Jack, who arrived following two years in the corporate team at Quinn Legal, is currently undertaking his seat in litigation and is due to be called to the Manx bar this autumn.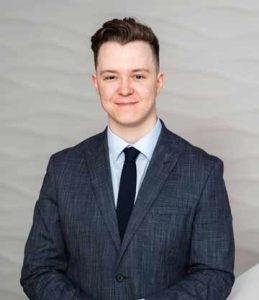 He currently assists the litigation team and will shortly move to its corporate arm.
Longer-term, he hopes to specialise in cryptocurrency law, cyber security and e-gaming.
He added: 'I am really looking forward to becoming a member of the Manx Bar and a practicing advocate. Throughout the process so far, I have received a great deal of support and advice from colleagues past and present and I would like to thank DQ for the welcome I have received and am excited for the next stage in my career.'
Mark Dougherty, Managing Director, explained: 'We are delighted to welcome both Ruth and Jack to our team.
'Ruth has vast experience, specialist knowledge and is a very well-respected advocate on the Island. She has a real pedigree and is committed to delivering a first-class level of service to clients, something we pride ourselves on.
'Likewise, Jack has displayed dedication and hard work in reaching this stage and, as we nurture local talent and help staff grow, I've no doubt he will become a valued member of our team.
'Our people are an essential asset to the business and developing an agile and adaptable workforce with a global mindset ensures we can meet the current and future needs of our clients across all markets.'