Staff Profile
Leanne is a Director and is Head of the Dispute Resolution and Employment Services teams.
Leanne McKeown
Director / Head of Dispute Resolution and Employment Services
Leanne is a Director and is Head of the Dispute Resolution and Employment Services teams.
Leanne is a qualified Manx Advocate and Commissioner for Oaths (having previously practiced as a solicitor in Northern Ireland).  Leanne is also a qualified Data Protection Practitioner.
Leanne specialises in commercial disputes, company, fiduciary obligations and employment related litigation.  Leanne has significant experience advising in high value claims regarding allegations of fraudulent breaches of directors' duties and complex e-disclosure process management. Injunctions and Norwich Pharmacal applications are a frequent feature of the multi-dimensional matters that Leanne handles.
Leanne has particular experience advising on all aspects of employment, equality and industrial relations law. Leanne advises clients in relation to workplace investigations, confidentiality, restrictive covenants, social media issues as well as related privacy issues.
She is expert in the employment law issues that arise from mergers and acquisitions, corporate restructurings and redundancy situations.
Leanne represents a number of island based Unions and recently advised a Teachers' Union on matters concerning industrial action short of strike.
Leanne provides counsel on all matters arising out of the employer-employee relationship and represents employers in contentious employment law disputes before the Equality and Employment Tribunal and the Isle of Man High Court, including injunction proceedings.
Leanne provides training in the following areas:
•  Equality Law
•  Disciplinary and Grievance Procedures
•  Legal Professional Privilege
•  Data Protection
Leanne is available to prepare and deliver bespoke in-house training, as required.
Chambers and Partners
Leanne is individually ranked by Chambers and Partners UK Guide 2020 (Offshore: Employment – Isle of Man).
Chambers notes that Leanne is a well-regarded practitioner with a broad employment practice covering contentious and non-contentious work. She has recently been involved in a significant number of unfair dismissal cases. Sources say: "She is very good at building close relationships with clients and is very sensible, reasonable and commercial."
Legal 500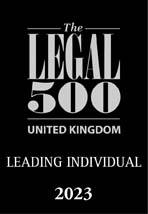 Leanne is listed as a Leading Individual for Employment in the Legal 500.
DQ Advocates is listed in Band 1 in The Legal 500 and described as "excellent and provides prompt, sensible advice". Leanne McKeown is described by clients as being a "great asset" to the firm and "has all the qualities one looks for in a lawyer".
Other notable quotes include:
Legal 500 – 2020
"Leanne is very helpful."
Legal 500 – 2018
"[Leanne] an excellent lawyer who constantly provides excellent service – she has a strong knowledge of employment legislation and the ability to translate this into a practical framework when dealing with complex issues"
Legal 500 – 2017
"great strategist";
"commercially minded and adaptable to every situation"
Chambers and Partners UK Guide 2017
"exceptionally clear and practicable" advice
"Leanne is someone who I feel has always truly been behind me and my business challenges."
Legal 500 – 2016
"very savvy and vibrant litigator"
"has all the qualities one looks for in a lawyer"
Chambers and Partners UK Guide 2016 and 2015
"listens and tries to understand the dynamics beyond the obvious issues that surface."
"is very good, certainly in respect of employment law on the island. She really knows her stuff."
Legal 500 – 2015
"a highly skilled lawyer with excellent presentation ability"
Chambers and Partners Europe Guide 2014
"knowledgeable and trustworthy. Her advice is clearly structured and reassuring".
Leanne is a member of the Chamber of Commerce Employment and Skills Committee and the Employment Lawyers Association.  Leanne is also a member of the Institute of Directors and holds an Institute of Directors Diploma in Company Direction.
Notable cases in which Leanne has been involved include:
Representing Origo Partners PLC (value c. £100 million) against a claim by one of its shareholders, Secure Nominees Limited, seeking to wind up the company on just and equitable grounds and on the grounds that the affairs of the company had been, were being, or were likely to be conducted in a manner oppressive or unfairly prejudicial to such member in his capacity as a member.
Acting as lead Manx counsel on a claim related to allegations of fraudulent breaches of directors' duties in the context of a multi-million pound property development.
Obtaining a Freezing Order against Montpelier (Trust and Corporate) Services Limited as trustee of The Dr Steve Smith Discretionary Settlement.
Highlights Holdings v SMP Partners & Otrs: Norwich Pharmacal proceedings; DQ represent SMP Partners in the litigation.
Advising a leading, multi-jurisdictional TCSP as regards breaches of contract and fiduciary duties by a former director with litigation before the EET and High Court.
RL360 Services v Smith & otrs: Representing Manx Industrial Relations Service as intervenor in proceedings before the High Court to determine a point of law as regards sections 156 and 164 of the Employment Act 2006.
Defending the estate of one of the non-executive directors of Heather Capital Limited in respect of claims against his personal estate for c. £250 million;
Advising the Department of Health and Social Care in respect of a number of breaches of confidentiality by a former employee and successfully obtaining injunctive relief against further disclosure (DOH v Al-Hiwidi, 26 October 2011);
Inquest re MJD (24 February to 19 March 2014); Jury inquest into a death in detention held over 3 weeks with some 70 witnesses; Article 2 ECHR engaged. Jury found accidental death contributed to by neglect. Detailed evidential analysis of Police Forensic Medical Examiner processes, transfer of medical information from police custody to prison health care, internal prison systems as to health care and emergency resuscitation procedures. Narrative verdict and fifteen Rule 34 recommendations made by Coroner of Inquests;
Representing the estate of Mr Christopher Scott in a high value clinical negligence claim against the Department of Health and Social Care following the delayed diagnosis of a malignant melanoma.
Assisting Dawn Jones in the matter of the Inquest into the death of James McLean.  DQ represented a Scottish Hospital Trust involved with the proceedings.
Notable publications to which Leanne has contributed include:
'The International Comparative Legal Guide To: Employment & Labour Law', published by Global Legal Group.  Leanne led DQ's contribution in the 2017-2019 editions of this publication.