Staff Profile
Jessica is an associate within the dispute resolution team.
Jessica McManus
Associate
Jessica is an associate within the dispute resolution team.
EXPERTISE
Jessica is an associate within the dispute resolution and employment teams.
Jessica trained at DQ and was called to the Manx Bar in December 2016.
Jessica supports the team in assisting and advising clients in a number of areas, including high-value corporate and commercial litigation, employment issues, personal injury and clinical negligence and debt recovery.
Jessica's commercial litigation practice has seen her act for a number of onshore and offshore clients from large CSPs to small partnerships. Jessica works with clients to find appropriate and effective resolutions including utilising alternative dispute resolution such as mediation.
In her employment practice, Jessica advises both employers and employees in contentious and non-contentious matters. Jessica was complimented for her "targeted and concise advocacy" when she successfully obtained an injunction for a Consultant who had been suspended from his position. Jessica also regularly advises on non-contentious issues such as contracts and policies for employers and settlement agreements.
Jessica graduated from Lancaster University with a first class honours degree in Law and gained a distinction in the Legal Practice Course at the College of Law Manchester.
Jessica's specialist areas of practice:
• Commercial litigation
• Employment
• Personal Injury and Clinical Negligence
• Trust and Estate disputes
• Debt Recovery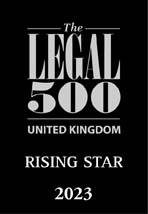 In October 2018, Jessica acted for the British Medical Association in respect of one of its members, a senior consultant at the Island's hospital. Jessica appeared in the High Court and successfully obtained an injunction against the DHSC preventing the doctor's exclusion from his NHS work at the hospital, only the second time such an injunction has been obtained on the Island. This was a widely reported case in the Island's press and Jessica was complimented by the Deemster on her "targeted and concise advocacy" within the judgment.
Throughout 2018 and 2019, Jessica represented Boca Limited and Soberano Limited in High Court proceedings relating to the breakdown in relationship between the limited partners in a limited partnership. DQ acted in bringing a specific performance claim on behalf of one of the limited partners, with the general partner also being joined and represented by DQ. The matter was highly contested with a number of interlocutory hearings including cross-summary judgment applications and a specific disclosure application.
Jessica acts for SMP Partners Limited, a global CSP, in respect of a Norwich Pharmacal application made against SMP and two client entities. In July 2019, Jessica appeared in the High Court Chancery Division to successfully obtain an order for security for costs for her client.